We Help Dog Trainers Get More Customers
K9 Cloud is the most reliable Dog Training SEO & PPC Agency in the US. We are passionate about our clients and we generate more PAID & ORGANIC LEADS from Google than any other agency in the world.
We Want Partners. Not Clients.
We are a NO-BS web marketing company that takes its commitment to you seriously. If you are tired of digital marketing companies raiding your bank account and not taking your success seriously, then K9 Cloud will be a breath of fresh air! Whether you need a PPC campaign that consistently brings you MORE LEADS FOR LESS MONEY, or you're looking for a mobile-friendly and modern web design, then we have you covered. We are a FULL-SERVICE DIGITAL MARKETING AGENCY that can handle all your web marketing needs. We have STUPID FAST web servers that host modern websites that (gasp!) convert visitors into leads!
K9 Cloud's Commitment is to Your Business
Your Success is Our Mission. We know you have lots of choices when it comes to choosing a digital marketing agency. That's why we have committed ourselves full time to learning your business inside and out. You bust your ass every day to make your customers happy. We work along side you 24/7 to help you execute on that goal. We bring proven strategies to the table and a work ethic that matches yours. 
K9 Cloud isn't just a marketing agency – we're a SUCCESS Agency!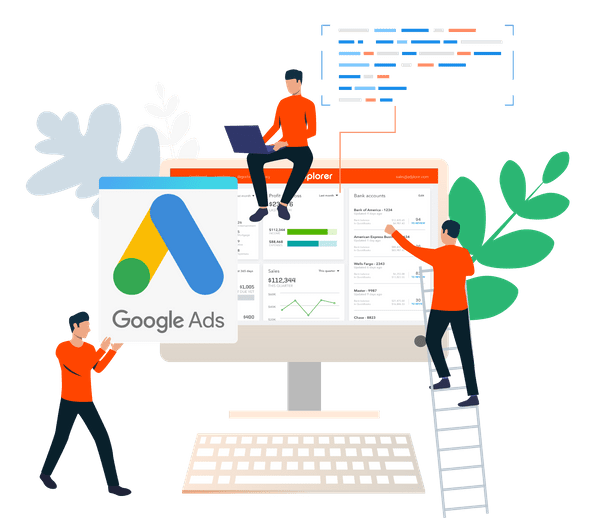 K9 Cloud Digital Marketing Services
Our commitment to your success means you'll never need to hold your breath the next time you worry about how much money your current marketing company has cost you!

PPC Advertising
K9 Cloud was built by our reputations as the #1 Paid Search Agency in the US. PPC involves far more than keywords and ads. We never "set it and forget it." K9 Cloud provides superior Google Ads and Facebook Ads management services for clients looking to grow.
SEO & Lead Generation
SEO is a coin with two sides. On-Page SEO means optimizing your website for speed, targeted keywords, valuable content, and proper code for search engine recognition. Off-Page SEO means getting attention & traffic to your site. The value of proper Local SEO cannot be understated.

Web Design & Development
A well-designed website serves as the first impression and cornerstone of your brand. The layout and design should be focused on creating a great user experience and driving online conversions. K9 Cloud will design and optimize your website for your target customer, search engines, and mobile usage.
Review Management
Our fastest growing service is our reputation and review management strategy that helps your business get positive reviews and promotes your brand online. We allow you to control your business's online reputation with an automated online review strategy.
Stupid Fast Web Hosting
What do you do if your site gets hacked and blacklisted? What if a WordPress plugin update breaks your site, and your sales come to a screeching halt? Or what if sluggish performance results in SEO penalties and no one can find your site? A Managed WordPress Hosting Package helps you overcome all of those challenges and more.

YouTube Marketing
YouTube Marketing is one of the most effective and powerful marketing strategies on the planet. A Video Library is one of the most valuable marketing assets you own. YouTube is still a super low-cost, effective, and efficient marketing channel. This is what differentiates great businesses from good ones!
K9 Cloud is passionate about digital marketing results and we will always go the extra mile for you. Here are what some of our clients had to say.
Trouble getting traffic to your site and capturing leads? I had the same issue until I contacted Scott! I almost couldn't keep up with all the leads I was getting! Scott completely transformed my website and my PPC campaigns. That was two years ago, and I have been using him ever since!

Definitely one of the best business decisions I have ever made!
Web Design, PPC & Review Management
WEBSITE REFRESH
NEW WEBSITE & FREE WEB HOSTING
New Website with Fresh New Branding

Managed WordPress Hosting

FREE SSL Certificate (https)

Unlimited Website Updates

FREE Backups & Malware Scans
PPC (GOOGLE ADS)
GOOGLE PAY PER CLICK
Local PPC Strategies to Increase Leads and Web Traffic

Monthly Management - NOT a "Set it & Forget It" Strategy

Conversion Tracking for KPI Domination

Landing Page Optimizations

Increased Click-Through-Rates (CTR)

Reduce High Cost-Per Click (CPC)

Increase Low Quality Scores
REVIEW MANAGEMENT
REVIEW ROCKET PRO™
SMS Customer Communication

Automated Online Review Generation

Positive Review Broadcasts

Reputation Repair Services
Website Management and SEO Services
WEBSITE MANAGEMENT
Full & Unlimited basic website management
Unlimited trainer profile edits

Unlimited price changes & package description edits

Unlimited video & testimonial edits

Daily Malware scans, Updates, & Website Backups
WEB + BASIC SEO
Website Management and Basic SEO
All Website Management Features

Location/Keyword Optimization

Schema Markup Language Optimization

Headlines, Titles, and Page Descriptions re-written to fit location/keyword strategy

Monthly tracking of up to 10 location/keywords (ex. "Fairfax Dog Trainers")

Image Optimzation (adding Alt Tags and geotagging)
WEB + FULL SEO
Website management and Full SEO
All Website Management Features

Platinum (on & off-page) SEO

Google Business Profile (GBP) Optimization (formerly Google My Business)

100+ Business Listings/Citations
K9 Cloud Digital Marketing Blog
SEO
In online marketing, traffic rules. The bigger the traffic, the better. However, employing a single strategy to boost your visibility in Search Engine Results Pages (SERPs) will limit your reach. Two of the best ways that online marketers use are
Content Marketing
Get Your Business On The Map Remember in early 2015 when you didn't really have to work that hard to end up in the map pack at the top of Google search results pages? Before mobile screen viewport size necessitated
Content Marketing
Hi All, Just wanted to post the first announcement here to let you know that you all deserve better!  You and I both know that online marketing is critical to the success of your business. So when you're dealing with old,